Bosses should relax workplace dress codes to help staff cope with the current hot weather, officials have urged.
The Health and Safety Executive (HSE) said employers should also consider measures such as allowing staff to work at cooler times of the day, as well as providing shade and free water.
The regulator said it was vital for employers to introduce "simple and cheap measures" to protect workers – both indoors and outdoors – amid expectations that climate change will likely lead to hotter summers in the UK going forward.
The guidance comes as much of the country experiences scorching sunshine and soaring temperatures.
Authorities recently extended a yellow Heat-Health Alert, warning of potentially significant impacts on vulnerable people, covering all regions of England until 9am on Monday 19 June.
The risk of wildfires has also been raised to "very high" for much of England and parts of Wales.
UK facing increased risk of wildfires

There is no legal maximum temperature for workplaces but the HSE said employers should be "responsible".
Other suggested measures include using blinds or reflective film on windows to shade workers from the sun, while also placing desks away from direct sunlight.
The HSE said relaxing dress codes should be done "if possible".
Spokeswoman Clare Owen said: "The updated yellow heat-health alert, as well as the extreme heat we experienced in 2022, should serve as a wake-up call for all employers.
"We know that employers are under pressure and we don't want to add to their burden, but climate change means we're likely to get hotter summers and that could have a big impact on the workforce of this country."
Read more:
Schools forced to close after taps run dry in heatwave
England 'not ready' to respond to extreme heatwaves this summer
Excess deaths for over 65s in summer 2022 heatwaves highest recorded since 2004
The regulator highlighted and praised the example of Nottingham-based engineering firm CNTL Ltd, which has offered flexible shifts to staff, allowing some to work from 5am to 1pm to avoid the worst of the heat.
Among those to recently suffer in the heat were three troops who fainted during a royal military parade on Saturday.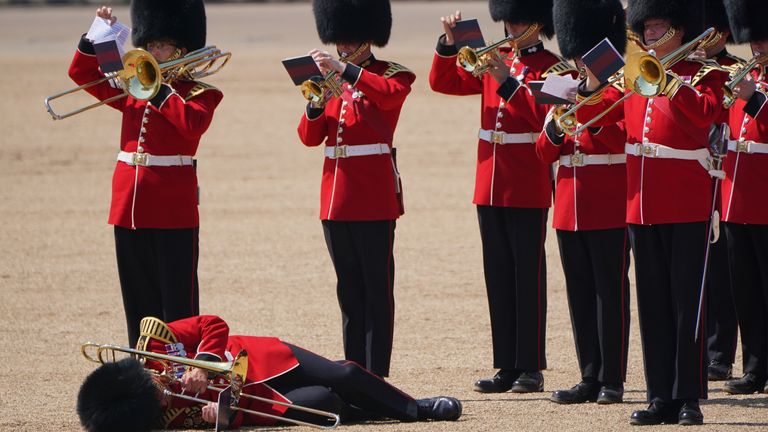 The HSE's advice was welcomed by the Trades Union Congress (TUC).
Its general secretary Paul Nowak said: "Working in sweltering conditions can be unbearable and dangerous, whether it's in an overheated shop, a baking office, or outdoors in the direct sun.
"Indoor workplaces should be kept cool, with relaxed dress codes and flexible working to make use of the coolest hours of the day.
"Employers must make sure outdoor workers are protected with regular breaks, lots of fluids, plenty of sunscreen and the right protective clothing."
How to survive when UK is 'hotter than Ibiza'

Ryan Exley, of the Institution of Occupational Safety and Health, said there was a risk of employees suffering from dehydration and heatstroke unless bosses took precautions.
The hot conditions are forecast to continue on Thursday, but an increasing risk of thunderstorms is expected going into the weekend.