The mother of a 19-year-old stabbed to death in the Nottingham attacks has paid tribute to her "beautiful boy" at a vigil for the three victims.
Emma Webber told the crowd: "Please hold no hate that relates to any colour, sex or religion… My beautiful boy – you have my, your dad and your brother's heart forever."
The sons of school caretaker Ian Coates wore football shirts with "RIP dad" on the back as they spoke publicly for the first time
Families of victims speak at vigil – live updates
"We are still dealing with what has happened," one of them said.
"My dad was an avid fisherman who loved his family and he also loved Nottingham Forest."
They also promised to support the other grieving families: "Anything they need from us, we are here for them," said one of the brothers.
Grace O'Malley's parents and brother also gave emotional speeches, with her mother saying her daughter was a "treasure" and beautiful on the inside as well as the outside.
"All they were doing was walking home. They were just walking home after a night out," she said.
"This person must face justice. It is truly unfair."
Grace's brother described her as like a "best friend", telling the crowd: "I urge you all to cherish all the moments with your loved ones because you never know when it will end."
There was a minute's silence in the city's Old Market Square and – at the request of Barnaby's mother – also a moment of applause.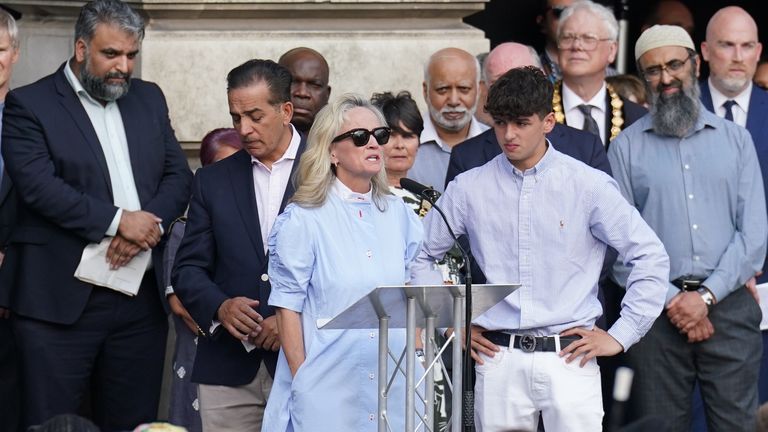 Police earlier revealed the man suspected of the triple murders in Nottingham is a former student of a university in the city – as detectives were granted another 36 hours to question him.
A 31-year-old man was tasered and arrested on suspicion of murder and remains in custody.
University of Nottingham students Grace O'Malley-Kumar and Barnaby Webber, both 19, were found stabbed to death in Ilkeston Road at around 4am on Tuesday.
School caretaker Ian Coates, 65, who was described by his sons as "everyone's friend", was then found dead in Magdala Road after his van was allegedly stolen by the suspect.
Another three people were hurt, one critically, when they were run over by a van.