The Metropolitan Police Commissioner Sir Mark Rowley will be questioned by MPs and City Hall on Wednesday after a damning report found rampant racism, misogyny and homophobia within the police force.
The author of the Met review Baroness Louise Casey will also be questioned by the home affairs committee in parliament and London Assembly's police and crime committee today.
It follows heavy criticism for Britain's largest police force after harrowing details emerged in the report, which was commissioned by the Met after the murder of Sarah Everard by serving officer Wayne Couzens.
Home Sec: Victims asking for 'action not words'

Bereaved families let down by the Met have made powerful calls for change after the review.
Baroness Doreen Lawrence, whose son Stephen was murdered by racists in 1993, said the force is "rotten to the core".
Family members of the victims of serial killer Stephen Port, who was left free to murder three men after police failures in investigating the death of his first victim, called for a public inquiry to understand "how and why this force is failing people so badly".
The lawyer who represents the family of Chris Kaba, who was shot dead by police, said the Casey review reflects the experiences of many relatives, who "often have to fight tooth and nail" to get information.
The report found one officer was "repeatedly raped" by a colleague, staff were urinated on during "initiation rituals" and rape cases were dropped due to a broken freezer.
The officer who had suffered domestic and sexual abuse at the hands of a fellow PC tried to take her own life after her case was passed between six different investigators in the Met's misconduct system in one year.
No action was taken after two years of investigation.
The series of scandals at the Met Police
Baroness Casey's report listed a series of scandals that had "damaged the Met's reputation and cast doubt upon its culture and standards". They included:
• The kidnap, rape, and murder of Sarah Everard by serving Met officer Wayne Couzens in March 2021
• The Met's handling of a public vigil held following Ms Everard's murder
• An independent report – published in June 2021 – into the 1987 axe murder of Daniel Morgan, which found institutional corruption in the Met
• An inquest in December 2021 for the victims of serial killer Stephen Port found that fundamental failings by the Met "probably" contributed to three of the four deaths
• The jailing in December 2021 of two Met officers for taking and sharing photos of two murdered women, Bibaa Henry and Nicole Smallman
• A police watchdog report in February last year which identified misogyny, harassment, and bullying – including racist, sexist and homophobic messages– among officers based at Charing Cross police station between 2016 and 2018
• A child safeguarding report in March 2022 which revealed a 15-year-old black schoolgirl was strip-searched by police after she was wrongly suspected of carrying cannabis
• The jailing in February of police officer David Carrick, who admitted 49 charges – including 24 counts of rape – against 12 women.
A female officer who said she was sexually assaulted by a more senior male officer multiple times was labelled a liar and a troublemaker.
Another officer groomed a victim of domestic abuse. She later learned he had not recorded any of the evidence she gave about her case, meaning her original abuser would not face justice.
A gay police officer said he was the target of a "sustained campaign of homophobia from inside the Met" while a black female officer considered resigning after a colleague called a white woman buying drugs from a black man a "n***** lover", "slag", and a "dirty woman".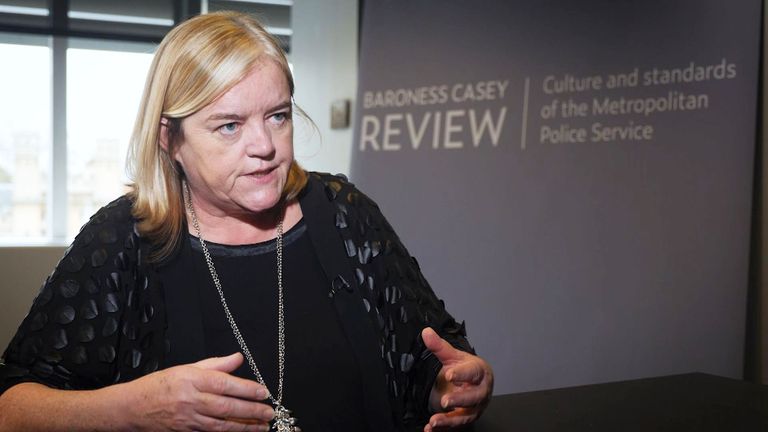 Baroness Casey concluded the Met needs a "complete overhaul" and may need to be broken up into smaller organisations.
Sir Mark Rowley said he was "embarassed" by the scathing review but said he would not describe the Met as "institutionally racist".
Sir Mark Rowley: Slitting London's police force up is not the answer.

He told Sky News that the Met has got "toxic individuals" of whom the force has "concerns about their predatory behaviour".
Meanwhile, police and crime commissioners outside of London have said they will enact reforms and hold their own forces accountable after the Casey review.
Several PCCs acknowledged in statements on Tuesday that the review will impact public confidence in policing outside of the capital.
Sussex PCC Katy Bourne said: "When the Met sneezes, all other forces catch a cold because of its scale and impact in national headlines and public perception."
Ms Bourne called the Casey report a "pivotal moment" for the Met and for all British police forces whose foundations have been "rocked and undermined".
"Public confidence is already plumbing the depths and today's publication of the Casey report could sink it for years to come," she continued.
West Midlands PCC Simon Foster announced he will convene a Public Accountability Forum following the "deeply and profoundly damning" report.
Meanwhile West Mercia PCC John Campion said the damning issues in the Met may also be present in West Mercia Police.
Read more:
All police forces need 'root and branch' review, says author of scathing Met report
Analysis: Findings of review are 'gift' to its commissioner – but it's not clear if he will fully embrace it
Could the force be split up after the Casey report – and how might it work?
"I'm not reassured that the examples of misogyny, homophobia and other abhorrent behaviour, highlighted in the Casey report, isn't also happening within West Mercia Police," he said.
A Sky News investigation found evidence of misogyny in Humberside Police after a serving PC faced ostracization after reporting sexual abuse by a fellow officer.
Sally, not her real name, said any young female recruit is considered "fresh meat" and senior female officers have their achievements undermined by mutterings that they've "slept their way to the top".
Click to subscribe to the Sky News Daily wherever you get your podcasts
She said she was seduced by a senior officer and found herself in a controlling, sexually violent relationship.
When she reported him, she alleges her colleagues rallied around him.
Have you got a story to tell about your experience with the police? Email news@skynews.com