Winning medals is "no longer the priority" as Kenyan athletics looks to clean up its image when it comes to drug cheats.
The country has seen a growing number of athletes serving bans for doping – accounting for 40% of the total number of athletes who failed drug tests globally in 2022.
Indeed, the situation is so dire that a potential ban from international competition was discussed by World Athletics, the sport's governing body, with Kenya's sports minister forced to plead for more time at a council meeting in Rome last November.
Kenya evaded a ban but the East African athletics powerhouse finds itself on an uncomfortable journey as it tries to repair its once glittering global image.
'We can no longer just focus on medals'
With the track and field season getting underway, national governing body Athletics Kenya is approaching August's World Athletics Championships in Hungary with caution – and a very different approach to the medal table.
"The results at the championships are no longer the priority," Barnabas Korir, Athletics Kenya youth development director, told BBC Sport Africa.
"The Federation is focusing mainly on protecting the clean athletes because it's a fact that we have athletes who are winning fairly.
"We would rather take runners who are considered weak, the results will not matter as long as they are running clean.
"We can no longer just focus on winning medals."
Sports minister Ababu Namwamba is expected to set up a steering committee that will ensure Athletics Kenya and the national anti-doping agency utilise allocated resources properly.
The government has committed $25m to clean up the sport over the next five years, but Korir knows failing to tackle the problem could prove costly in other ways.
"We have to reduce the numbers significantly so as to regain our positive global image," he added.
Testing times ahead
Kenya is among seven countries deemed a Category A federation – the highest doping risk – by the independent Athletics Integrity Unit, meaning athletes must undergo at least three tests in the 10 months leading up to a major event in order to be eligible to compete.
"We have been in Category A for five years now and our target is to get out in the next five," Korir revealed.
"World Athletics has given us a target of at least 3,000 tests through the anti-doping agency of Kenya this year – that's part of the requirement if we are to continue competing against the rest of the world."
Over 1,500 athletes took part in the second Athletics Kenya track and field meeting on 25/26 February, a competition sanctioned by World Athletics as a World Championships qualifying event.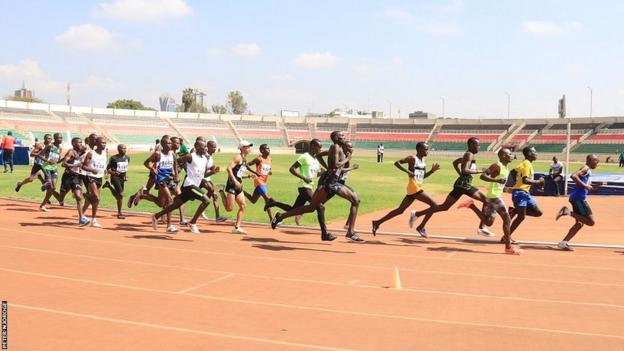 "Ordinarily, the main aim at local events is to spot talent but we are using most of our events to register athletes into the Athletics Integrity Unit testing pool," Korir continued.
"It's important for us to expand our testing pool as it increases our chances of catching cheaters."
In January, World Athletics boss Sebastien Coe visited Kenya to discuss the situation, stating he was confident there had been no cover-up or suggestion of state-sponsored doping in Kenya.
Korir has vowed that no one will be allowed any leniency in the battle against doping.
"Even the top athletes who think they can get away by cheating the system will be smoked out before the end of the year."