Former Cameroon and Arsenal defender Lauren has urged Spanish authorities to do more to stop racism in football, saying the current system "allows it to happen".
"I grew up here in Spain and we all know there are Nazi people in the crowds," said the two-time Premier League winner who also won two Africa Cup of Nations.
"Supporters of Real Madrid, the Ultra Surs, Boixos Nois Barcelona, Frente Atletico Madrid, United Family Real Betis, Valencia's Ultras Yomus, Blanquiazules Brigades Espanyol – they are all Nazis.
"They are always there at the stadium every single week since I was a kid. The Spanish authorities do nothing about them.
"They allow them to even go to the training ground to put pressure on the players and that's why I am saying it's the system that allows this (racism) to happen."
Last week, the Spanish league, La Liga, said it was seeking more powers to allow it to punish fans for racism.
But Lauren, who grew up in Spain's Andalusia region, said there are other ways of dealing with the issue.
"The only (club) president who said 'I don't want any more Ultra Sur supporters at Real Madrid' has been Florentino Perez. He's the only president who said 'I don't want far-right people in my stadium.'
"The rest of the presidents don't do anything at all," added the 46-year-old, who regards the situation as even worse in the lower leagues where such incidents don't create headlines.
"This is the reality here in Spain…in La Liga, in the second division, the third division. Vinicius makes it bigger because he plays for Real Madrid."
Lauren highlighted several other high-profile players who have faced racism in the past, with their cases remaining largely unresolved.
"Twenty years ago, it happened with Samuel Eto'o and nothing happened. Dani Alves with Barcelona when they threw bananas and nothing happened."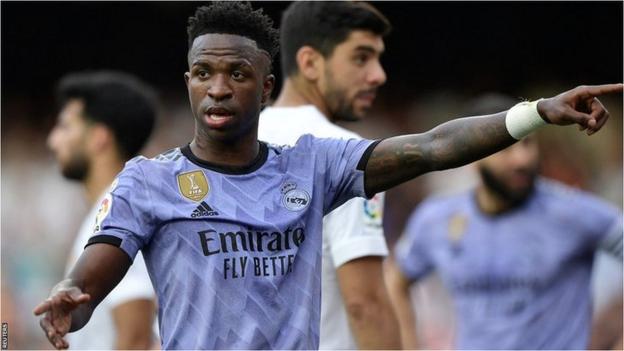 Spain 'not a racist country'
After the abuse Vinicius Jr suffered at Valencia, the 22-year-old Real Madrid star said on social media that "in Brazil, Spain is known as a country of racists."
But Lauren, who moved to Spain from Equatorial Guinea as a child, does not agree.
"Spain is not a racist country," he stated.
"I grew up here in Spain. My wife is Spanish, half of my family is Spanish and the other half is African, so I know what I am talking about."
The insults aimed at Vinicius Jr have triggered a fierce debate about whether Spanish society has a racism problem.
La Liga president Javier Tebas rejected the idea, tweeting "Neither Spain nor La Liga are racist, it is unfair to say this". Some of the country's main political figures have also denied there is a wider problem, pointing the finger back at Vinicius Jr.
Lauren believes blaming the Brazilian is merely deflection.
"Some people have tried to focus attention on his (Vinicius Jr's) reaction to racism, but we must focus attention on what happened before the games.
"Vinicius was abused at Atletico Madrid. When he got down from the bus, thousands of people were insulting him, shouting 'black monkey we are going to kill you.' The week before the match, they pulled his image on the bridge, hanging him, saying 'Vinicius we are going to kill you'.
"In Valencia before the game, the boy got down from the bus and they were insulting him, thousands of people saying 'black monkey.'
"This was the same against Valladolid and against Barcelona as well. He has suffered racism since he arrived in La Liga when he was 18 years old."
Under Spanish law, La Liga can identify and report cases but not impose sanctions.
Lauren said numerous attempts to seek redress in the courts have not produced any respite.
"Vinicius went to the courts nine times saying 'I have been abused.' La Liga has also been sending letters to the courts saying the boy has been racially abused in the most terrible and vicious way, but the system and the authorities did nothing.
"That's why I am saying Spain is not a racist country, however the system and the people that run these institutions are racist.
"This is the situation we live in here in Spain. This is the reality."
La Liga has made a formal request to the Spanish government to amend the law in order to give it authority to impose sanctions such as the total or partial closure of stadiums, bans for supporters and financial penalties.