Just Stop Oil protesters have invaded the stage during the first night of the Proms – as other activists later interrupted a live broadcast of Channel 4's The Last Leg comedy show.
In the Proms incident at London's Royal Albert Hall, the environmental group tweeted that two demonstrators had set off confetti cannons and sounded air horns, and attempted to address the audience before being forcibly removed.
The pair were booed by some people in the audience as they were bundled off stage after unfurling banners.
The BBC, which airs the annual classical music event, said "there was no disruption to the concert or the broadcast during the few seconds the protesters were on stage". It also denied that air horns and confetti were used.
Around a couple of hours later, just minutes into the airing of The Last Leg talk show, three activists wearing Just Stop Oil t-shirts ran on to the set and handed hi vis orange vests to the programme's stars.
Just Stop Oil interrupt comedy show

Host Adam Hills cheered and said: "This is not part of the show."
One of the protesters, who called himself William, even hugged Hills as the TV star then tried to put the bright top on over his jacket before deciding against it.
The trio were soon led off stage by staff.
Just Stop Oil said the Royal Albert Hall demonstrators were Kate Logan, a 38-year-old mother of two, and Pia Bastide, a 29-year-old community worker – both from London.
"I refuse to accept that my future is being sold away, one new oil licence at a time, and do nothing," said Ms Bastide in a statement.
The protest group wants the government to stop licensing all new oil, gas and coal projects and has tried to disrupt numerous high-profile events to highlight its cause.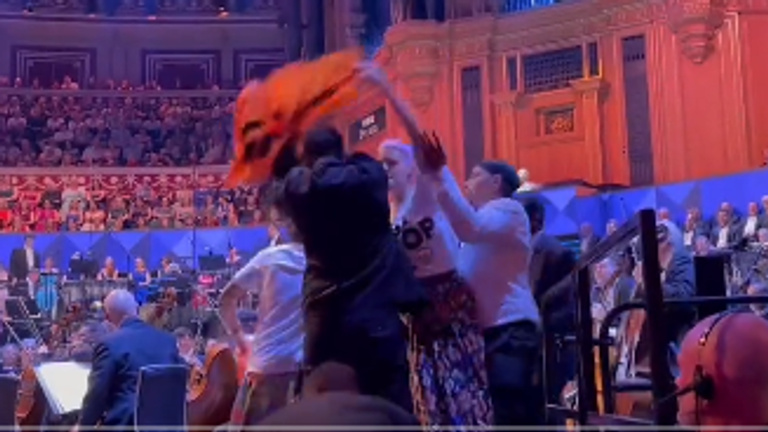 In response to the Royal Albert Hall incident, Culture Secretary Lucy Frazer tweeted: "Eco zealots shouldn't disrupt sports events, weddings or the Proms.
"My message is this: Leave people to enjoy the events they love, and stop damaging your own cause."
Confetti and jigsaw pieces were thrown on a court at Wimbledon last week, while England cricketer Jonny Bairstow carried off a protester at the Ashes in June.
Orange powder was also thrown on a table at the snooker world championship in April, while the Chelsea Flower Show was targeted in May.
Two members of the group were jailed for more than two and a half years a few months ago after climbing the bridge at the Dartford Crossing in October.
New powers to crack down on activists came into force this month.
They give police new rights to move static protesters, such as those who attach themselves to objects or sit in the road.