In 1969, with a civil war raging, global football's biggest star arrived in Benin City as part of a visit that would change Nigerian football forever.
Those involved still remember the occasion vividly.
"It was all about Pele. Before one o'clock, Ogbe Stadium was jam-packed and it was difficult for people to have seats, because they were anxious to see the artistry of Pele," Godwin Izilein told BBC Sport Africa.
Izilein had been chosen as captain of a team put together to represent Mid-Western State, an old administrative region that covered what are now Edo and Delta states, in a friendly against Pele's Brazilian club Santos.
"It was at the peak of the civil war. The day of the match, nobody thought of guns any more," Izilein added.
Santasticos on tour
With a roster including Pele and the likes of fellow Brazil legends Carlos Alberto and Pepe, Santos' so-called 'Santasticos' spent much of the 1960s cashing in on their global fame, heading out on exhibition tours across multiple continents.
They made more than one trip to Africa, including the 1969 visit that included stop-offs in Algeria, Congo-Brazzaville, DR Congo, Ghana and Mozambique, in addition to Nigeria.
Aged 28, Pele was already a two-time World Cup winner, having burst on to the scene as a precocious 17-year-old in 1958, scoring six goals as Brazil won their first title in Sweden. The Selecao made it back-to-back World Cups in Chile in 1962, although Pele missed much of that tournament through injury.
Although Santos' arrival in Nigeria came a year ahead of Brazil's much-celebrated third world title, claimed in Mexico in 1970, Pele was still seen as an African sporting icon, given his ancestry on the continent.
"It was quite striking to see Pele in person because we all read about him as a young player who helped Brazil win the World Cup in Sweden," said Jonathan Ofugere, who at the time was president of the West African Football Union (WAFU).
"We were proud that a player of African origin, born in Brazil, could put up such a show."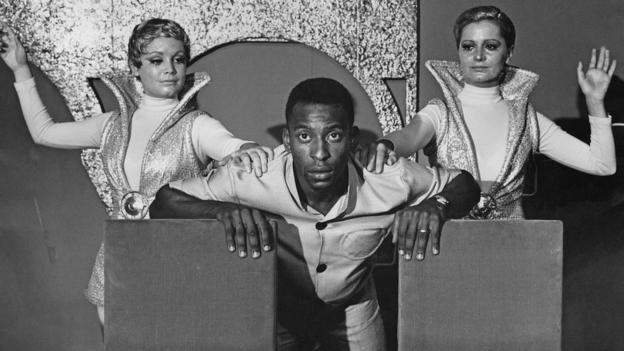 Mid-Western State governor Samuel Ogbemudia had helped organise the match, having extended an invitation to Santos following their 2-2 draw in Lagos against Nigeria's national team, known back then as the Green Eagles.
"The Nigeria Football Association wanted a guarantee that the Mid-Western government would provide some money to facilitate their movement from Lagos to Benin," Ofugere continued.
"Ogbemudia called an emergency meeting to raise funds. Before long, we were ready to meet all the conditions."
'My first tackle on him was a robust one'
The game took place on 4 February – and started badly for the home side.
"Within five minutes, we conceded two goals," recalls Izilein, who played in midfield.
"I talked to my players and said, 'Look, we have to do something. We cannot be slaughtered here on our ground'."
Izilein's plan involved him taking on the game's most difficult task.
"I had no option but to volunteer to mark Pele.
"He was very skilful and smart, a perfect gentleman. My first tackle on him was a robust one and he didn't like it."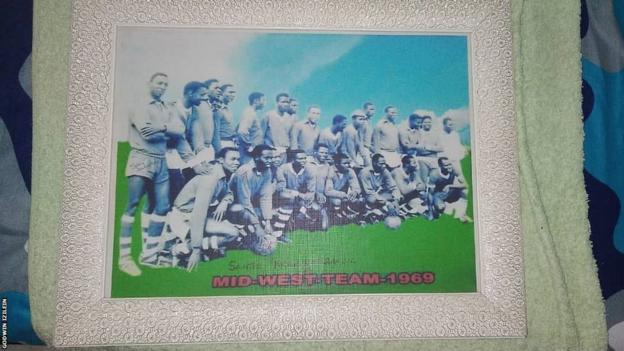 Izilein's robust tactics seemed to pay dividends. At the start of the second half, a goal for Mid-Western State was greeted by ecstatic celebrations in the stands – and an unusual red card.
"It was wonderful! It was like a million goals. Everybody in the stadium went berserk.
"Esama Igbinedion [a Nigerian business tycoon] entered the pitch and started spraying money on us. He was given a red card (but) didn't leave until after spraying us."
The game ended 2-1 to Santos, but it wasn't the end of Izilein's encounter with Pele.
"(He) was very enthusiastic to hear from me. He said, 'Would you like to follow me to Brazil?' And I said no.
"Nobody was enthusiastic about travelling at that time. If it were now, I would have followed them right from the pitch."
Nigeria turns to Brazil for inspiration
There are oft-repeated apocryphal tales that claim Pele's arrival in Benin City, close to the frontline of the fighting between Nigerian government forces and Biafran independence fighters, led to an informal ceasefire, with soldiers putting down their weapons in order to focus on the football, although the wider consensus in Nigeria is that this is not true.
If there was a cessation in the war, it certainly didn't last – but the impact of Santos' visit definitely did.
"(Pele's visit) led to a lot of things," said Ogufere.
"The Nigeria Football Association, where I served for more than 10 years, now looked towards Brazil and imitated them and encouraged the players to play like Brazilians.
"That led to Nigerians going to Brazil and Nigeria also hiring a Brazilian coach – Otto Gloria – who helped us win the Africa Cup of Nations for the first time in 1980."
There are also personal stories about the impact the man they called 'The King' had in Nigeria.
"Pele raised the standard of football in Nigeria. He made it very high. The impact was tremendous," says Jossy Donbraye, another of the Mid-Western State team that lined up against the great man in 1969.
"I was just 19 years old. I played as a schemer, distributing passes in midfield," Donbraye added.
"That's why Pele told me that I will play for the country. For me to play 10 years for Nigeria was by Pele telling me."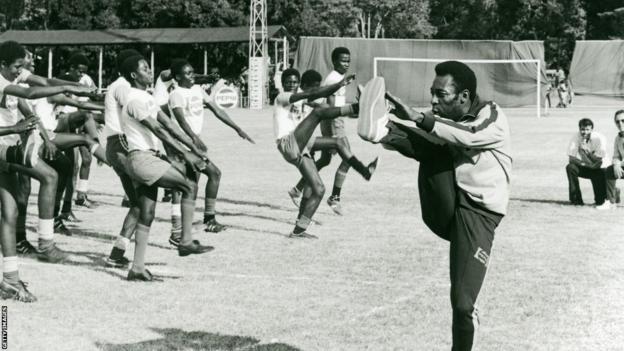 For Izilein, who would go on to coach Nigeria's women's team, the Super Falcons, the impact on training was key.
"He emphasised discipline. We started training and coaches were being sent out for refresher courses.
"There was no more kick and follow. People now developed the idea of initiating attack from the rear.
"Those who were not interested before… their interest was rekindled."
Pele's death in December at the age of 82 robbed football of an all-time great but Ogufere is convinced the Brazilian's legacy endures in Nigeria.
"We are all very saddened to lose him but he has left an indelible mark which players should look to emulate."