The government has rejected a recommendation to increase the annual budget for maternity services that was made in the wake of one of the worst baby deaths scandals in NHS history.
It has also largely rejected calls from the Women and Equalities Committee to set a target and strategy to end racial disparities in maternal deaths.
The committee report previously found maternal deaths are four times higher in black women compared to their white counterparts, and "significant disparities" also exist for women of Asian and mixed ethnicity.
It built on the work of the Ockenden report, published in 2022, which examined more than 1,800 cases of harm – including the unnecessary deaths of babies and mothers, and babies left with lasting brain damage – at Shrewsbury and Telford NHS Trust between 2000 and 2019.
Independent midwife Donna Ockenden was originally asked to look at 23 cases of alleged maternity failings at the trust when the review began in 2017, but the number of families contacting her quickly grew.
It was a damning report that blamed the Trust for the deaths of 201 babies and nine mothers.
Ms Ockenden made 27 recommendations, including that the government increase the annual budget for maternity services to £200m-£350m.
This was also recommended by the Health and Social Care committee when the now chancellor, Jeremy Hunt, was its chair.
But while the government accepted it "must do more" for mothers and babies, it declined to increase the budget to do so.
Ms Ockenden is now conducting a review into maternity failings at Nottingham University Hospitals NHS Trust, with more than 900 families contacted.
The trust has already been fined £800,000 for a "catalogue of failings and errors" that led to the death of a baby 23 minutes after she was born.
Government 'stops short of significant action'
The government partially accepted one of the Women and Equalities Committee's recommendations and said NHS England will "carry out a scoping exercise" on a review of training curricula and continuing professional development requirements for all maternity staff.
Chair of the Women and Equalities Committee, Caroline Nokes MP, said the government's response "stops short of the significant action we need to end these appalling disparities in maternal deaths".
Click to subscribe to the Sky News Daily wherever you get your podcasts
"Our inquiry clearly found that without further funding, it will not be possible to implement measures such as continuity of care and to combat inequalities, due to considerable staffing shortages across maternity services," she added.
"We remain very concerned and will continue to apply pressure on the government to make progress to end the disparities once and for all."
Read more:
Why maternity scandals keep happening
Baby deaths mystery from 1930s solved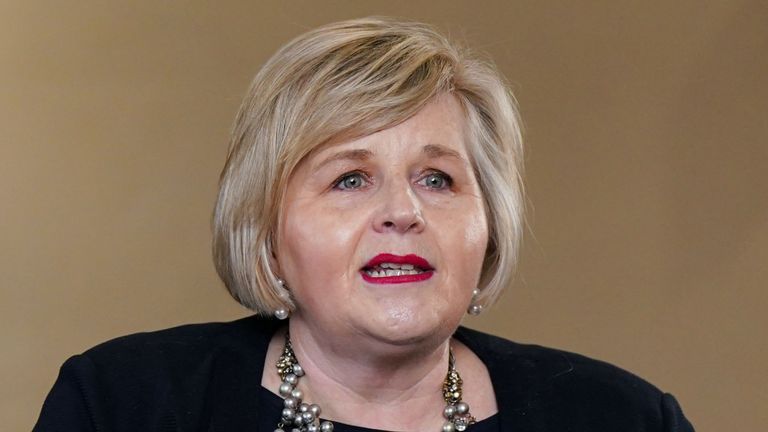 The government has agreed to update the committee on a six-monthly basis on the progress of the Maternity Disparities Taskforce.
However, it declined to provide minutes and metrics for gauging the success of the taskforce, saying there is "clear value" in flexibility and adaptability.
It also said pre-pregnancy care will be the focus of the taskforce for the next twelve months but will keep suggestions for future focus under consideration.