They're the power couple of squash, and world number one and four-time world champion Ali Farag says the off-court achievements of wife Nour El Tayeb sometimes leave him "embarrassed not to give 110%".
During that time, the couple welcomed their first child, with daughter Farida arriving in July 2021.
Speaking to the BBC World Service, Farag revealed he could not compete at the top level without the love and support of his family.
"I'm married to a fellow athlete, someone who inspires me every day," he told Sportshour.
"She came back so quickly after giving birth and (coped with) having two, three hours of sleep with a baby waking up – and she would wake up and go to the gym and go to the squash court.
"It keeps you a little embarrassed not to go and give 110%. I definitely benefit a lot from her character."
Farag says his wife's return to the game is testament to her professionalism.
"She wasn't even sure she was going to come back after giving birth," said the 31-year-old.
"Two months later, she felt 'I want to get back in shape'. So she went back to the gym, and then why not try and be on court?
"Then, when she was on court, why not try and play again? And if it goes well…that's how it started."
Impressively, El Tayeb has now climbed back up to number six in the world.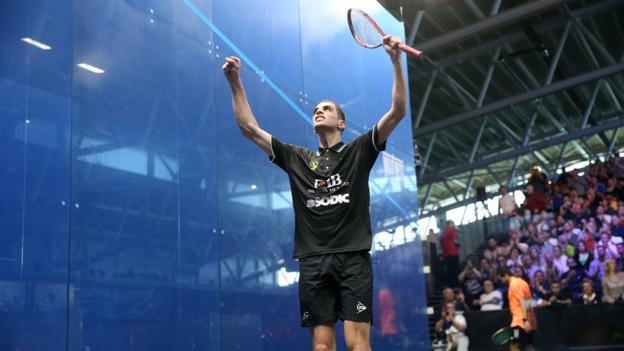 'Men are not easy to deal with'
Farag has struggled with injury this season, spending four months out with a knee problem.
Without El Tayeb's backing, he says he might have hung up his racquet or failed to reclaim his spot at the top of the world rankings.
"I've never dealt with anything like it before. During the injury, you lose faith, you question whether you're ever going to come back," Farag said.
"Because she's been through an injury before and because she's been through pregnancy, she pointed out that I would come through it.
"Men are not very easy to deal with when they are not doing their job. She understood very well and she kept giving me confidence that I would be back."
El Tayeb made her comeback on home turf in December 2021, less than six months after giving birth, winning her first match despite the additional stress of breast feeding and changing nappies.
Farida is now a happy toddler and Farag says taking her on tour around the world makes life easier for him and his wife – both on and off the court.
"It takes the pressure off you. The grandparents play a huge role but seeing her in the (victory) photos means we will be able to look back and know she was a part of it too," Farag said.
"These are memories we are creating together. It's bringing us closer to each other because we have one shared goal."