The coach of Morocco's women's team, Reynald Pedros, says his players must "be ready to do something big" as they look to emulate the success of the country's men at this year's World Cup in Australia and New Zealand.
The Atlas Lionesses have reached the tournament for the first time in their 25-year history, making them the first Arab nation to qualify.
They booked their place by finishing as runners-up at last year's Women's Africa Cup of Nations, in which the hosts lost the final to South Africa in Rabat.
"We want to go there and show that Morocco has made progress", Pedros told Sportsworld on the BBC World Service, stating that his squad will try to draw confidence from the performance of Morocco's men at last year's World Cup in Qatar, in which they became the first African team to reach the semi-finals.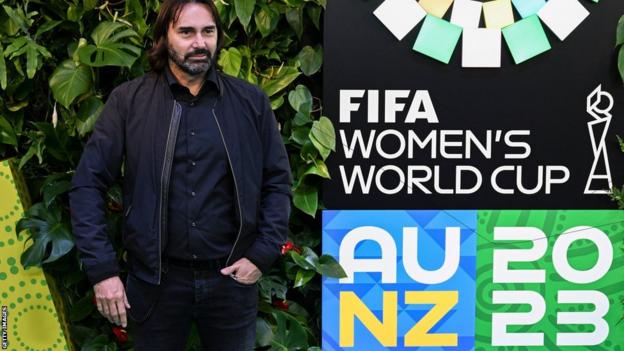 "Of course, we are inspired by the [men's achievement at] the World Cup, it was fantastic.
"Even beyond the results, what was fantastic was the state of mind of this group which arrived there at this World Cup, not as favourites at all and they finished top of their group."
Regragui's magic touch
Just like the men, Morocco's women are far for being favourites in a group containing two-time champions Germany, South Korea and Colombia.
So it is no surprise that Pedros intends to tap up his counterpart with the men's team, Walid Regragui.
"We're certainly going to get closer to Walid to find out what his words were, what his speech was before the first match," explained the 51-year-old, who took charge of Morocco in 2021 after two years coaching the most successful women's club side in the world, Lyon.
"In particular to find out a little about the methods he used to bring this team back together.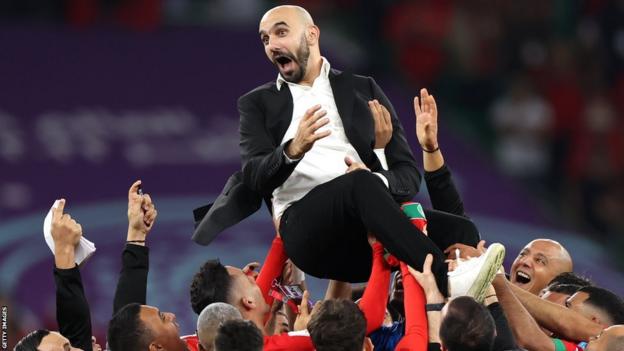 "The men's team had an absolutely exceptional World Cup. We also hope to have a superb World Cup.
"We will have to surpass ourselves, will have to be at a very high level."
Just like her coach, Morocco forward Rosella Ayane, who plays for Tottenham Hotspur in England, is determined to use football's global showpiece to boost her nation's profile.
"We want to get out of the group, that's an objective," she revealed.
"I'm so excited, really focused. I'm trying to get myself in the best mental and physical shape I can, to prepare to be at my absolute best.
"I know what the feeling is like in the squad. We are not there just to make up numbers."
Moroccan football on the rise
Ayane, who played for England at Under-17 and Under-19 level, could also have played for Scotland but instead chose to represent her father's country at the senior level – and does not regret it.
"In the past two years, the federation have really started to back women's football and you can see that in the progression that we've made," revealed the 27-year-old.
"I wish I was 21, joining now. I'm jealous of all the girls who are in their twenties and under eighteens.
"The facilities they have are world class. It's just the start of our journey, the way that Morocco women's football can go is scary, we could be a force."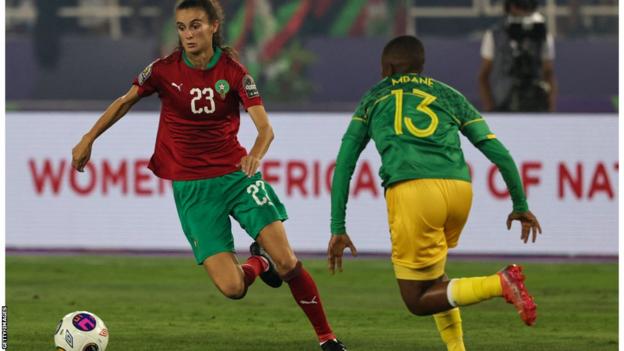 Pedros agrees that the investment made in football infrastructure over the last few years is really starting to pay off.
"The structures here are exceptional," the Frenchman revealed.
"Pitches, the environment, the food, it's very high level.
"We have a president who is very attentive, who really wants the women's teams to succeed and he gives us all we need so we can eat well, sleep well, work well.
"In football, that's something important. It's a bit of the unseen work of what happens around games."
Morocco are taking the business of football so seriously that the country has launched a sixth bid to host the Men's World Cup, joining forces with Spain and Portugal for a tilt at the 2030 tournament.
This year's Women's World Cup, which begins on 20 July, will provide evidence of just how far Morocco have come in the women's game, presenting another golden opportunity for the country to make more football history.
For Pedros, the first target is making it out of the group.
"I think we need to prepare ourselves with the hope to qualify. Be ready at the right time, which means be ready against Germany, and after that we will see.
"We will try and work to be ready straight away, to do something big.
"We can't wait for it. We want to be there already."