The US Supreme Court has ruled in favour of Jack Daniel's in a trademark dispute with a dog toy company's toilet-themed product resembling the signature whiskey bottle.
A lower court had ruled in favour of VIP Products in 2020, which argued that its "Bad Spaniels Silly Squeaker" dog toy used Jack Daniel's brand "to convey a humorous message" and the toy was an "expressive work" and had not tainted the brand.
However, the Supreme Court unanimously dismissed the ruling.
"It is not appropriate when the accused infringer… has used a trademark as a trademark," Justice Elena Kagan said when announcing the ruling.
"[This] does receive special first amendment protection."
Justice Kagan said the lower court had made a mistake with the "expressive work" argument and, going forward, the case would focus on whether "the Bad Spaniel marks are likely to cause confusion" for consumers.
"This case is about dog toys and whiskey, two items seldom appearing in the same sentence," she added.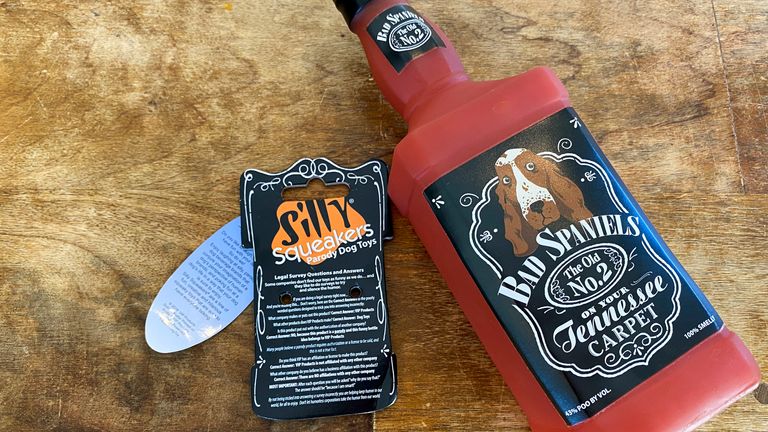 'The Old No. 2' on your carpet
VIP Products has been selling its Bad Spaniels toy since 2014 and has since added to its own Silly Squeakers line of chew toys which mimic liquor, beer, wine and soda bottles, including "Mountain Drool" – a parody of Mountain Dew – and "Heini Sniff'n" – resembling Heineken beer.
Its most noticeable parody yet is its "Tennessee Sour Mash Whiskey" toy, which includes the wording: "The Old No. 2 on Your Tennessee Carpet."
The Jack Daniel's bottles have the words: "Old No. 7 brand" and "Tennessee Sour Mash Whiskey".
The original bottle notes it is 40% alcohol by volume and the parody features a dog's face and says it is "43% Poo by Vol." and "100% Smelly".
Read more on Sky News:
Analysis: The case against Trump will rock the US
Unexpected symptoms of poor air quality revealed as smoke blankets parts of US
The toy, which sells for around $20 (£16.23), also notes in small font: "This product is not affiliated with Jack Daniel Distillery," on its packaging.
Jack Daniel's lawyers argued that the toy misleads customers, profits "from Jack Daniel's hard-earned goodwill" and associates its "whiskey with excrement".
The Supreme Court did not decide whether VIP had violated trademark law but instead sent the case back for further review.