South Africa goalkeeper Andile Dlamini stands on the precipice of a remarkable return to the Women's World Cup after coming back from a career-threatening heart condition.
Two years ago, Dlamini's career hung in the balance when a severe cardiac effusion, brought on by contracting Covid-19, threatened to shatter her dreams.
"It was a very painful experience," the 30-year-old tells BBC Sport Africa.
"I thought I was losing my life. There was a time when I asked my mum: 'Mama, just let me go – I am tired.'
"I didn't think I would ever play football again and I don't think the doctors thought I would ever play football again."
Against all the odds, Dlamini returned to football after six months out – a full recovery she credits to doctors at her South African top-flight club, Mamelodi Sundowns, alongside her family and football.
"I think the doctors were shocked that I healed quicker than normal," she reflects.
"But when you play for Mamelodi Sundowns, you have the best doctors and specialists. They saved my life."
'Sport and arts is a perfect combination'
Dlamini found motivation during her recovery in the words of her mother and the Sundowns' participation in the inaugural Women's African Champions League in November 2021.
"At that point in time, it was my mum and her belief that I'd be OK – and thinking of the Champions League every day," she says.
"It was the first Women's African Champions League and I needed to be there. I needed to be back."
The Sundowns did not concede a goal across their five matches as they won the tournament in Cairo.
When she was named player of the match following her side's penalty shootout win over Hasaacas Ladies in the semi-finals, Dlamini dedicated the victory to her mother and reflected on how she had struggled to breathe, eat and drink months earlier.
"Music played a huge role in my recovery," Dlamini says.
"There is a song called Ngicela Kukhanye, which is Zulu for Please Bring Me Brightness. That song healed me on its own."
For Dlamini, who is also a singer, music is more than a pastime.
"Music is life," she says. "It connects. It motivates. It heals. And what a way to mix sport and arts. For me, that is a perfect combination.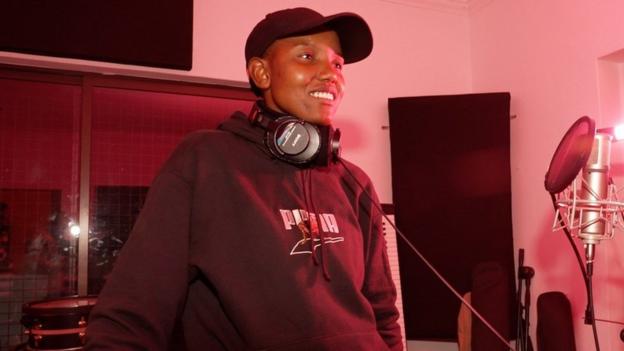 "My late grandmother used to be a pastor. We used to go to church every day and I used to listen to my uncles and everyone else sing at church. I fell in love with music that way.
"When I came to football, I was reminded that I had a great voice by my team-mates. I was so shy singing, and then they started making me sing the lead in songs.
"Imagine you're sleeping and someone knocks in your room, and they go 'come, let's go and sing in the passage'. And they're like 'we want to hear your voice'. That on its own will motivate you."
Dlamini's passion for music and football have beautifully intertwined. She has released 10 songs but it is sport that takes centre stage in her life.
"They're both my careers – but right now, football is dominating," Dlamini explains.
"I have a signed contract that says you need to be on the pitch every day. I don't have a contract with music."
Africa's finest
It is football where Dlamini has also found most success. Last year, the goalkeeper won another title when she played a key part in South Africa's first Women's Africa Cup of Nations (Wafcon) victory in Morocco, having lost each of their four previous appearances in the final.
Dlamini won the tournament's best goalkeeper award, as she had done in the 2021 African Champions League.
"Winning Afcon changed a whole lot of things for women in South Africa," she says.
"More recognition, more respect, more love from people – being treated professionally. They knew there was a goalkeeper called Andile but now they understand that she plays for the national team and she is currently the best goalkeeper in Africa.
"But it has also put so much pressure on us to improve because you cannot stay at the same level. You need to grow each time."
Dlamini has been playing professionally for more than a decade, starting at a time when female footballers in her country had to dip into their own pockets to train and play matches.
While the situation has improved, she craves more impactful change and says a lack of sponsors remains as much an issue now as it was initially.
"That's what I want to see change – getting more sponsors in the women's game so that the girls can also make a living out of a football career," she hopes.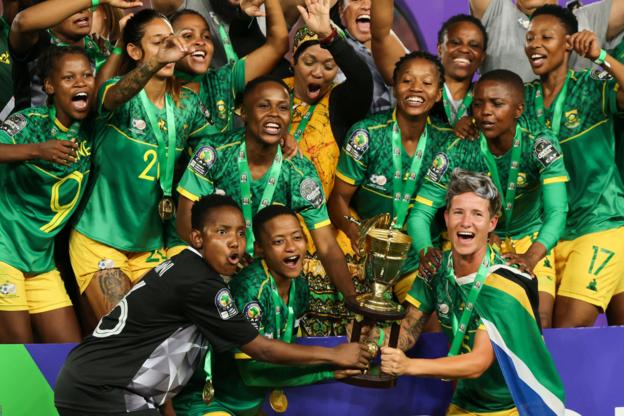 'We are not big-headed'
The finals in Australia and New Zealand will be South Africa's second time at the World Cup. Dlamini started two matches when her country made its debut in 2019, going on a steep learning curve as they lost all three of their group games.
"It was the first time – we didn't understand what we were going to be up against," Dlamini says, looking back on their encounters with Spain – against whom South Africa led until the 69th minute of their opener – China and Germany.
"We did a lot of video sessions. Training and video sessions are different from the experience when you get on that field of play.
"And thinking of where we come from, our league was not professional at that time. Some players were training three times a week and it's so difficult for a coach to bring in players, train with them for a month and then be expected to do exceptionally well at the World Cup."
Banking on the lessons learned four years ago, Dlamini anticipates South Africa will fare better in 2023, when they will face Sweden, Argentina and Italy during the group stage.
As the team prepared to embark on their World Cup journey, a dispute erupted between the players and South Africa Football Association over several issues including bonuses.
A back-up team had to be hastily assembled when the Banyana Banyana players did not take part in a send-off friendly match against Botswana because of the row, which has since been resolved.
"This time around, we're going as African champions with experience," points out Dlamini. "We are not big-headed about it.
"We know it is 11 against 11 on the field and one team must win. We want to do our level best to make our country proud and our continent proud."