Israel Adesanya reclaimed his middleweight title from long-time bitter rival Alex Pereira with a spectacular knockout at UFC 287 in Miami, Florida.
With his back against the cage in round two, Adesanya, 33, unleased two crushing right hands to send Pereira, 35, to the canvas.
The victory avenges three previous defeats for Adesanya against Pereira.
He lost twice in kickboxing in 2016 and 2017, and at UFC 281 in November.
That most recent defeat inside the octagon saw Brazil's Pereira earn a stunning fifth-round knockout to win the title.
"I hope every one of you can feel this level of happiness for one time in your life," said Nigeria-born New Zealander Adesanya.
"But guess what – you'll never feel this level of happiness if you don't go for something in your life. When they knock you down, if you stay down you will never get that resolve.
"Fortify your mind and feel this level of happiness. I'm blessed to feel this again and again and again."
In the co-main event, Brazil's Gilbert Burns beat hometown favourite Jorge Masvidal by unanimous decision and then called for a title fight with British welterweight champion Leon Edwards.
UFC president Dana White has previously said American Colby Covington is next for Edwards but a second successive win for the fifth-ranked Burns, 36, could put him in the title picture.
"I am the only guy in the whole UFC who is willing to fight anyone at any time," said Burns.
"If they call me to fight the devil you know what I'm going to say. That being said, Leon Edwards, I'm coming for you."
Masvidal, 38, announced his retirement following a distinguished 20-year career which has yielded 35 wins from 52 fights.
Adesanya conquers his nemesis
Adesanya has said his rivalry with Pereira has produced the "greatest storyline in MMA history".
Following Adesanya's second kickboxing defeat in 2017, he transitioned full-time to MMA, where he went on to become UFC middleweight champion in 2019 and dominate the division for three years, defending the unified belt five times.
But after achieving all he wanted to in kickboxing, where he was a multi-weight champion, Pereira followed Adesanya to the UFC and after wins in his first three fights, was fast-tracked to a title bout.
That encounter saw Pereira beat Adesanya inside the octagon, setting up an immediate rematch and fourth fight between the pair.
Adesanya wore a dog collar during his walkout, saying pre-fight that when he takes it off he will be unleashed inside the octagon.
UFC commentator Joe Rogan, meanwhile, described Pereira's walkout as "bone-chilling" as he stopped halfway to scream and mimic firing a bow and arrow, which is a nod to his indigenous roots in Brazil.
The opening stages of the fight saw both fighters throwing numerous feints and attacking via leg kicks, with Adesanya circling away from Pereira's dangerous left hook while trying to keep the Brazilian going backwards.
The second round is where the fight sprung to life as Pereira applied pressure and, echoing scenes from their bout in November, attacked Adesanya against the cage.
Unlike their last meeting however, Adesanya was able to avoid damage and counter with two flush right hands which left Pereira flat out on his back.
Adesanya roared in delight before celebrating by mimicking Pereira's bow and arrow taunt.
In victory, Adesanya becomes a two-time middleweight champion and inflicted the first defeat of Pereira's five-fight UFC career.
"I told you the hunter is now the hunted. Thank you for beating me because beating me made me a better fighter, a better person" said Adesanya.
"In this camp I didn't [mess] around. If you know me I like to vacation but I stayed on the grind and I put myself through it."
Veteran Masvidal closes career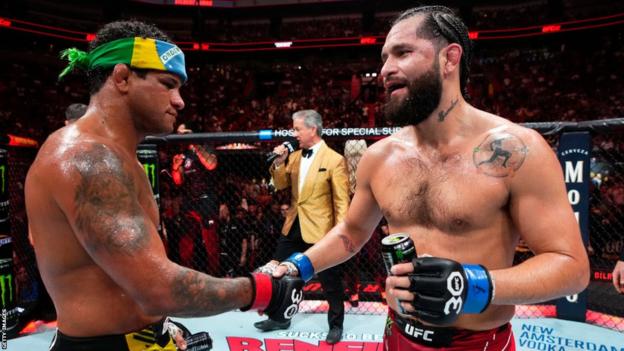 Masvidal was targeting a convincing victory over Burns in front of his passionate home support in Miami to set up a potential title bout with long-term rival Edwards.
Masvidal and Edwards were involved in a backstage altercation in 2019 and were due to fight in December 2021, but the American pulled out with injury.
Instead it is Burns who enters the title picture after getting the better of the grappling exchanges with Masvidal, while landing some big right hands in the final round.
The defeat was Masvidal's fourth in a row and he took off his gloves before the post-fight interview to signal retirement.
A veteran of 22 UFC fights, Masvidal has secured 17 finishes during his career with his five-second knockout of Ben Askren in 2019 being the fastest in UFC history.
"Sometimes your favourite basketball player don't have that three-pointer anymore. I don't feel the same when I get in here anymore," said Masvidal.
"UFC came here 20 years ago and it inspired me to chase this dream. Hopefully I inspired someone out there to chase theirs, whether it's in the sports world, the entertainment world or the nine to five.
"I started with nothing, now I'm a multi-millionaire and I'm set for life. It's been 20 long years. I love you, guys."
Elsewhere, Raul Rosas Jr, who at 18 is the youngest fighter in UFC history, suffered his first defeat in the promotion, losing a unanimous decision to Christian Rodriguez.
California's Rosas Jr earned a spot in the promotion last year, winning his first fight in December, but was unable to get the upper hand in the grappling exchanges with 25-year-old Rodriguez.